Historic merger marks new chapter in Malaysia's digitalisation journey: "We are in pole position."
Historic merger marks new chapter in Malaysia's digitalisation journey: "We are in pole position."
For over 20 years, Digi has empowered Malaysian society, connected people to what matters most, and fueled the country's digital transition. With Celcom Digi commencing operations on 1 December, the next phase of Telenor in Asia begins.
"This is truly a special day, both for our customers in Malaysia and Telenor," comments Sigve Brekke, President & CEO of Telenor Group, when asked about the first day of operations for the new Malaysian telco Celcom Digi.
"The company is in a pole position when it comes to creating more customer value, and I'm confident that Celcom Digi will play a key role in setting Malaysia up for the digital future," says Brekke.
The newly established company, which is a result of the merger of Axiata subsidiary Celcom and Telenor subsidiary Digi, will create an approximately USD10 billion converged operator in Malaysia. Telenor and Axiata will be equal owners and operational influence through Board representation. Telenor representatives on the Celcom Digi board include Jørgen C. Arentz Rostrup (Deputy Chair), Rita Skjærvik, and Håkon Kjøl.
"The merger is a clear sign of how Telenor is executing on the strategy we presented at the Capital Markets Day in September," underlines Brekke.
Read also: Axiata and Telenor announce the successful completion of the Celcom and Digi merger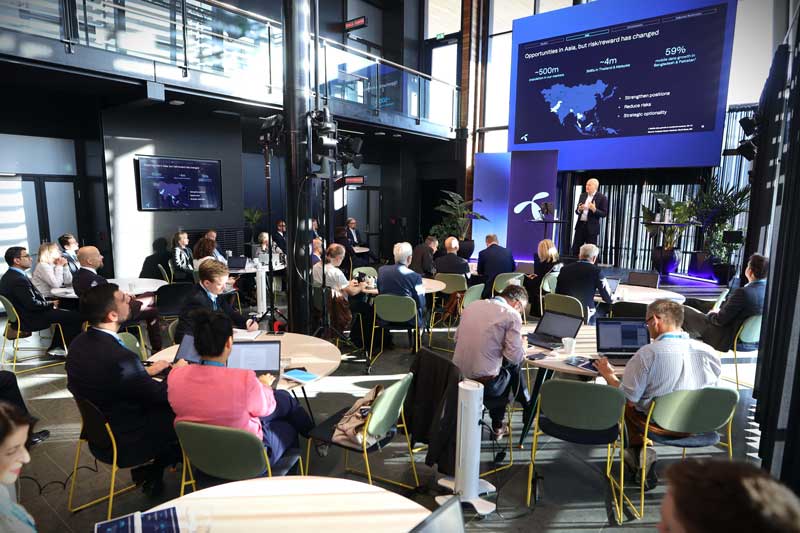 On track with Asia ambitions
It was in April 2021 that Telenor and Axiata first announced that they were in advanced discussions to merge their Malaysian operations. In addition to value creation and playing an important role in Malaysia's digital aspiration, the objective of the merger was to establish a leading market player that could have a greater impact and be a strong local partner for high-value customers, enterprises, and SMEs.
"The new entity is taking the best from both companies. It's well positioned to drive innovation and high-skilled employment, increase consumer choice for digital needs, and explore opportunities within 5G services, AI, and IoT," says Jørgen C. Arentz Rostrup, EVP and Head of Telenor Asia.
Telenor and Axiata will be equal partners in the merged company, with 33.1 percent ownership each. Rostrup calls the merger a momentous milestone for Telenor's work to build scale and profitable business as well as manage risk more efficiently in the Asia region.
"Our ambition is to become a leading operator in several markets because we believe it's a good way to increase value for businesses, consumers, and shareholders. This mega merger in Malaysia puts us in the right direction and provides a solid platform for sustainable long-term growth. Structural partnerships or an initial public offering are future options for Telenor Asia," says Rostrup.
In Thailand, Telenor and CP Group aim to complete an amalgamation of the subsidiaries dtac and True within the first quarter of 2023.
A new dawn for Telenor in Malaysia
For Telenor, the merger signals a new dawn for the company's history in Malaysia – a history that spans back to 1999, when the company first bought a stake in Digi.
"Digi was the first major investment Telenor made in Asia. For 22 years, we learnt about Malaysia and its dynamic competitive market. We are proud of how Digi has developed into an innovative and customer focused telecom operator and contributed to empowering the Malaysian society and helped people connect to what matters most to them," Brekke reminisces.
Telenor's journey in Asia began two years earlier with Bangladesh in 1997. 25 years later, Telenor has over 165 million customers in the region and has, for more than two decades, supported national digital ambitions across Southeast Asia.
"Improving people's lives and empowering societies has, is, and always will be Telenor's foundation for growth in Asia. Seeing how mobile connectivity and digitalisation impact people confirms our companies' important contribution to societal development," says Rostrup, who refers to a recent Telenor Asia study of 8,000 people in South and Southeast Asia. In the survey, a whopping 93 per cent said that mobile connectivity improved their quality of life.
However, as mobile connectivity evolves from a nice-to-have to a must-have, both Brekke and Rostrup believe that to reap the full benefits of how new technologies, such as cloud computing, analytics, and storage, can further empower societies, telcos need to think differently.
"For Telenor's operations in Asia, our ability to provide value to customers and society require new thinking. With Celcom Digi, we can stay competitive, drive growth, build scale, and enhance execution capabilities and innovation momentum," says Rostrup, who oversees the company's operations in Bangladesh, Malaysia, Pakistan, and Thailand from Singapore.
The formation of Telenor Asia was announced in October 2022, and is a continuation of Telenor's unified Asia business which was established two years earlier. Telenor Asia is a more autonomous regional entity with headquarters in Singapore that has complete oversight and responsibility for the company's operations in the region.
Thanks to all Digizens
"The Telenor you see today is not the Telenor you will see in the future," proclaimed Brekke at Telenor's Capital Markets Day this year. Taking the number one position in Malaysia and establishing a more autonomous Telenor Asia entity are parts of the reshaped Telenor that will ensure value creation and profitable growth in the years to come.
"I am very pleased to see we are taking the steps in our journey to build a smarter and more flexible Telenor. It's easy to be sentimental on a day like this, as we look back on all the amazing efforts and achievements we have accomplished in Malaysia with Digi," says Brekke, but underlines that he is equally thrilled when thinking about the new opportunities and possibilities the merger unlocks.
"Then, in truth, the real work starts now, and I am confident that we will see Celcom Digi spearhead Malaysia's digitalisation push going forward. With that said, I believe today is the right time to give a heartfelt thank you and a big hand to all the heroes at Digi and Telenor Asia for their fantastic work and shared dedication towards empowering the people of Malaysia," says Brekke.
Echoing Brekke, Rostrup added: "The spotlight today belongs to the hard-working and focused team in Digi and the Telenor Asia employees who have gone the extra mile for so many months, to ensure the successful completion of a record telco merger in Southeast Asia. I also want to thank the Digi Board and all independent non-executive directors for their role in this transaction, and not least the Digi shareholders for their overwhelming support throughout the process."
"During all my years working in Asia, I've always been taken aback by the enthusiasm, deep commitment, and professional attitude of Digi employees. It's not by chance that Digi has earned multiple awards for its services, including being named Malaysia's most innovative company. The 'Digizens' will always have a big place in the Telenor heart, and we look much forward to supporting their journey in Celcom Digi," concludes Brekke.
Telenor Asia
Telenor's journey in Asia began in Bangladesh in 1997. Fast forward 25 years, Telenor is a leading telecommunications company in the region and we are committed to supporting national digital ambitions of the Asia markets we operate in. Learn more about Telenor Asia