Telenor Makes Changes: Asia Chief and Nordic Chief Exchange Positions (DN story)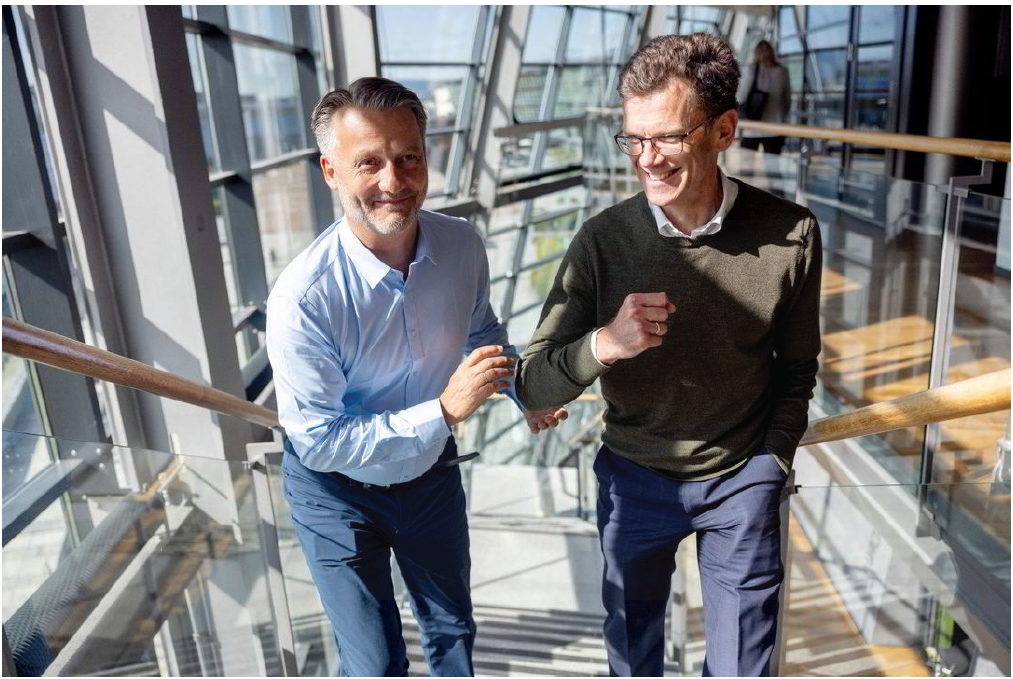 There are changes happening within the Telenor Group shortly before the contract of CEO Sigve Brekke expires. Among other things, Asia Chief Jørgen C. Arentz Rostrup is returning home.
"It's Sigve (Brekke) who comes to us and says that he's been thinking. We don't go around thinking about these things ourselves. Sometimes a change is good, because then you get a new perspective on things," says Telenor's soon-to-be former Asia Chief, Jørgen C. Arentz Rostrup.
He and Petter-Børre Furberg are exchanging positions within the telecom giant's leadership. Rostrup is returning from Asia to take over as the head of Telenor Nordic, while Nordic Chief Petter-Børre Furberg is returning to Asia.
There are few who know Telenor better than these two, as both of them have held various roles within the company.
Almost exactly a year ago, a number of strategic changes were decided upon at Telenor. Among other things, the changes involved two major mergers in Asia and increased collaboration among the Nordic companies. Rostrup believes that these changes paved the way for the role exchange he is now a part of.
The NHH (Norwegian School of Economics)-educated Rostrup joined Telenor in 2016 after three years in a leadership position at Yara. Before his role at Telenor Asia, he worked as the company's CFO.
"We set a new course. Three and a half years ago, I left my job as CFO and went to Asia. Then, I was given a mandate to strengthen the position and change the management model, with an eye toward making it a more independent operation afterwards. There's still a lot of early work to be done there."
"Asia in both heart and soul"
Both seasoned business leaders are careful to praise each other's contributions. However, the notion that they're simply playing musical chairs is not accurate. Both will face challenges in their respective regions to navigate a constantly changing telecom market.
Furberg, too, holds a degree in economics from NHH and has held various positions at Telenor since 1998. He has also served as the CFO of the company's Thai subsidiary.
"My advantage is that I've been part of an exciting technology journey at Telenor Norway, which holds a number one position in the market. It will be important to build on that experience in Asia," Furberg says about his new role.
Furberg is looking forward to his comeback in Asia.
"I feel like I have Asia in both my heart and soul – I'm coming home in a way."
Rostrup explains that part of the idea behind the switch is to bring some of the insights from the process in Asia back to Norway and the Nordic region.
"Both were equally happy with the idea of exchanging places?"
"Yes, we were very happy," says Furberg.
"I see it as a very exciting and great change," Rostrup responds.
They will assume their new roles on October 1st.
Focus on the Nordics
It's well-known that the current CEO, Sigve Brekke, who is soon to be 64 years old, could retire before turning 65 in December 2024.
"Is this a job you're planning to apply for?"
"In a publicly-traded company, those decisions are made by the board. That's the case in Telenor as well. I don't think about it. My honest and sincere answer is that I'm focusing on the job at hand – I will have my focus on the Nordics," Rostrup replies.
"But you wouldn't say no if the board suggests it?"
"I will consider what to do if it becomes relevant, and right now, it's not relevant, and I have a good boss."
Furberg chimes in:
"I thought Jørgen's answer was very good."
"A New Phase"
Telenor CEO Sigve Brekke says, "Telenor in Asia and the Nordics is getting two experienced and motivated leaders."
"We are now entering a new phase to deliver on the ambitions we've set forth, and in preparation for this, I've had discussions with Jørgen and Petter-Børre on how we can succeed best."
Brekke explains that the switch was decided upon over the past few months.
In addition to the reshuffling of Rostrup and Furberg, Amol Phadke will be taking on the role of Chief Technology Officer as a new addition to the company's top leadership. Phadke comes from Google Cloud, where he served as the Global General Manager for the company's Telecom Industry Vertical.