Telenor Asia in action: Three strong women leaders paving the path in Asia
Telenor Asia in action: Three strong women leaders paving the path in Asia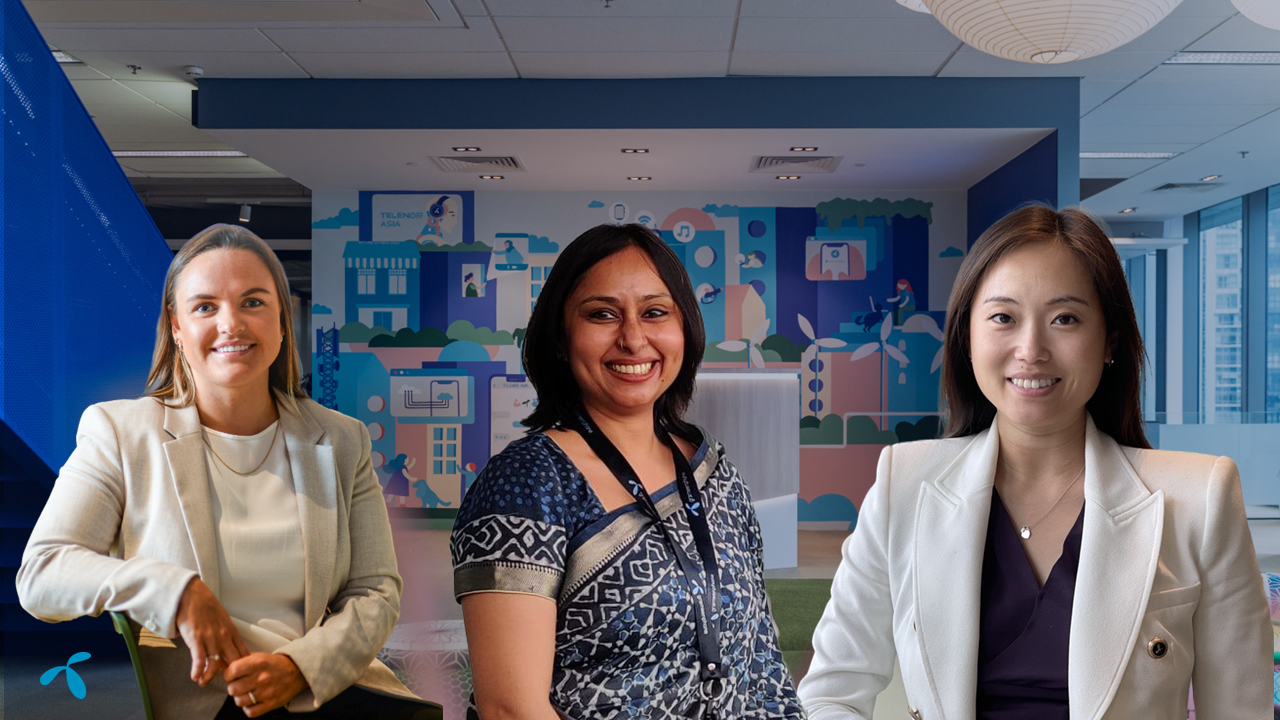 Three women who are working on some of the most important priorities for Telenor Asia tell us how they have stepped into leadership roles that are traditionally dominated by men.
Over the past few decades, we have seen a shift towards gender equality in the workplace. Within the telecommunications sector globally, women participation varies widely by company, ranging from 10% to 52%, while certain business areas in the telco sector have traditionally remained male-dominated. (Telenor Group's workforce is 38% women.)
We speak to three leaders who are working on some of the most important priorities for Telenor Asia and carving out successful careers for themselves.
Sara Zhang, Vice President (Mergers & Acquisitions) at Telenor Asia
Sara and the Telenor M&A team have delivered three big M&As in the past six months, two of which are the largest telecoms mergers Southeast Asia has ever seen. Since she started her career in investment banking more than a decade ago, she has seen more women being promoted to senior roles in finance. However, in her opinion, there is still a long way to go.
There are fewer women than men in top roles in M&A (mergers and acquisitions) globally. How can we enable more women to succeed in the decision-making arenas?
Start by providing equal opportunities to work on significant and varied transactions. Companies should also consider putting a premium on skills such as emotional intelligence, empathy, and leadership in addition to finance skills. Finally, remove unconscious bias and avoid "boys club" behaviour. Leaders need to advocate for women and promote the fact that diversity in M&A's complex decision-making process has proven to be better for shareholder return.
What would you say are the key factors for your success today?
A strong, relevant, and diverse set of skills and experiences in M&A and finance which I have continuously honed.
Any advice for aspiring women professionals in your arena?
Speak up, and do not second guess yourself.
Always go after opportunities you want, whether you believe you fully qualify or not.
It is your responsibility to advocate for yourself, which is something men are often more comfortable doing.
Ine Elisabeth Edvardsen, Head of Investment Management, Pakistan at Telenor Asia
Ine leads Telenor Asia's investment management team for Pakistan, a challenging market to operate in. She represents Telenor's interests in the board and provides guidance to the Telenor Pakistan management team on strategy and business operations.
What gets you up on your feet and ready to roll every day?
The role allows me to stay curious and learn something new every day – from running a responsible business in Pakistan to leadership in practice. My greatest motivation is the challenge at hand, combined with the trust I have been shown by leaders I highly respect. Working with great and highly competent people is also key to my motivation and what gets me up and running every day.
What are the factors you would credit to your success?
I focus on always doing my best job at any point in time and having the willingness to try new things. My "can-do" attitude, combined with good leaders exposing me to complex strategic projects, has also been key for my development.
How can enable more women up to be able to succeed in leadership roles?
It starts with equal opportunities. Trust women by giving more responsibility and stretch projects to support their ideas and confidence. Assuming even distribution of competence in the job market, it is thought-provoking that males are more often promoted than females.
Samrine Bokhari, Circle Business Head – Chattogram at Grameenphone
Samrine Bokhari is the Head of Sales for Grameenphone in Chattaogram, Bangladesh's second largest city, leading a team of 57 sales professionals. Previously the head of Dhaka Central Region, Bangladesh's most populous city, Samrine was responsible for getting retailers across the city to go digital. Dhaka Central came up tops for retail digitalisation for 15 months in a row, thanks to the efforts by Samrine and her team in educating and empowering retailers.
How can women succeed in the competitive arena of sales?
I came from a non-sales background, but I kept an open mind and learned from all layers of sales, from the field force to veteran business heads. I also actively looked for opportunities to add value with my diverse experiences and perspective to the sales organisation.
What are the key challenges you face as a woman leading telco sales in Bangladesh?
The top challenge is bias and stereotypes against women. But through this, I have learnt to be persistent and confident. My experience is that, eventually, people around you will understand a leader is a leader and their gender is irrelevant.
Any advice for aspiring sales professionals?
My advice will be to not wait for a right time to pursue your dreams. Whenever an opportunity presents itself, grab it. Everything else will fall in place.